School Meal Program Brings Breakfast Out Of Cafeterias And Into The Classroom
School Meal Program Brings Breakfast Out Of Cafeterias And Into The Classroom
: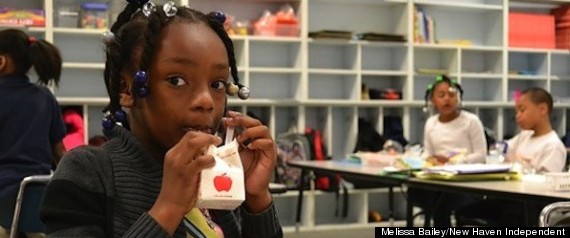 Jameyah Carmichael fueled up for math class with apple juice and Frosted Mini-Wheats.
In the first month of a new experiment inside a Dixwell school, the number of kids eating breakfast shot up by 75 percent—a swift change that officials hope will help students learn math and read books.
The eating took place at Wexler/Grant School, which serves 378 kids in grades pre-K to 8 at 55 Foote St. The school, which is in the first year of a turnaround effort designed to boost failing test scores and improve the school climate, is now home to the experiment in childhood nutrition.
They grabbed a morning meal not in the school cafeteria, as was their routine, but in the classroom. In doing so, they followed the latest thinking in school meals, which concerns not just what kids eat but where.