How my pupils turned journalists for the day | Teacher Network Blog | Guardian Professional
How my pupils turned journalists for the day | Teacher Network Blog | Guardian Professional
:
A teacher shares a wonderful writing for purpose experience
• Plus enter our competition and win an ipod for yourself and a workshop for your class at the Guardian's Education Centre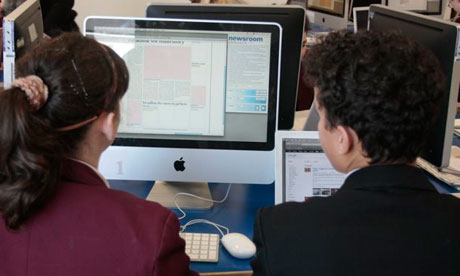 Students from St Philip Howard made real progress with literacy and writing for purpose when they created their front pages at the Guardian Education Centre. Photograph: Guardian
How many children of school age regularly read a quality newspaper, let alone understand how it is produced? I don't know the answer, but my unofficial research tells me not very many, unless it's a quick rifle through the Metro looking for the celeb gossip on the morning journey to school.
Skimming my inbox during a rare quiet moment last summer an email from the
Guardian Teacher Network
caught my attention: "Make a Newspaper Front Page", free journalism workshops for school groups. Fantastic! We were successful in booking two day courses for around 80 year 8 mixed ability students in total from a range of countries and backgrounds.