'Let nature be your teacher': Bhutan takes conservation into the classroom | Annie Kelly | Global development | guardian.co.uk
'Let nature be your teacher': Bhutan takes conservation into the classroom | Annie Kelly | Global development | guardian.co.uk
: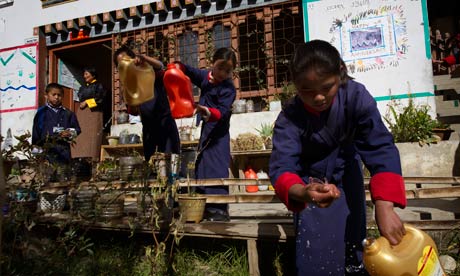 The Jigme Losel primary school in the Bhutanese capital, Thimphu, is a riot of green. Plants cover most surfaces and are piled precariously on walls and stairwells. On the wall behind the school's vegetable patch a hand-painted sign says: "Let nature be your teacher."
"It's become our unofficial slogan," Choki Dukpa, who has been headteacher at Jigame Losel since 2005, says. "We want nature to be everywhere the children are. Most of our country is mountains, but here in the city I think the children can feel disconnected. It's our way of bringing the outside to inside the school environment."
For the past three years, Dukpa has been putting the environment at the heart of all teaching and activities at this busy primary school. "
Environmental sustainability
and nature is now central to the way we teach here," she says.